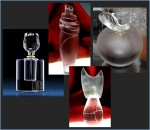 Aphrodesia begins at ISIPCA, the world-famous perfume school in Versailles.  In the satellite view below (from Google Earth), the two chateaux are just to the left of center.  The laboratory wing is the building with the flat, gray roof.  The building with flat, brown roof houses offices, classrooms, the Osmothèque's demonstration room, and a cafeteria.
The second photo shows one of the two chateaux, the one situated on the left-hand side as you enter the campus.  The third shows the laboratory wing.
The opening line of Chapter 1 reads, "In the lab where students mixed ingredients for their perfumes …"  That laboratory is shown in the fourth photo.
The fifth is a photo of Jean Kerléo in one of the classrooms.
The sixth shows ISIPCA's library, where Chapter 4 begins and we first meet Marie-Claire.
The last two photos show Jean Kerléo opening the vault of the Osmothèque and a view inside the vault.
Kerléo is the only non-fiction character mentioned in Aphrodesia, at least the only one with any significant role.  While his role is "off-stage," I nevertheless thank him for allowing me to use his name.  While creating Aphrodesia, I visited him four times.  The story would not have been possible without him.